February 24, 2o21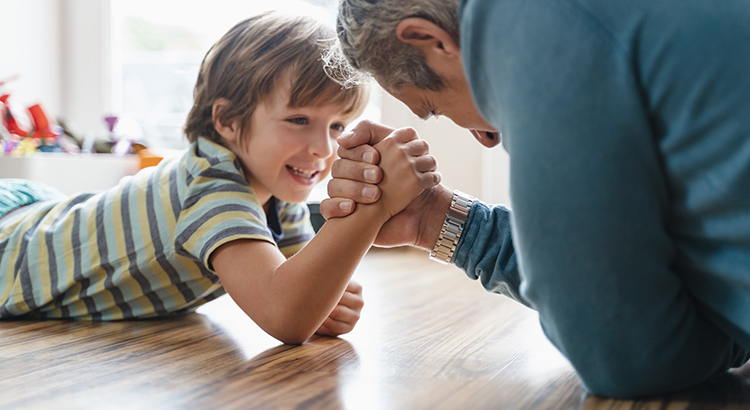 The housing market has been scorching hot over the last twelve months. Buyers and their high demand have far outnumbered sellers and a short supply of houses. According to the latest Existing Home Sales Report from the National Association of Realtors (NAR), sales are up 23.7% from the same time last year while the inventory of homes available for sale is down 25.7%. There are 360,000 fewer single-family homes for sale today than there were at this time last year. This increase in demand coupled with such limited supply is leading to more bidding wars throughout the country.
Rose Quint, Assistant Vice President for Survey Research with the National Association of Home Builders (NAHB), recently reported:
"The number one reason long-time searchers haven't made a home purchase is not because of their inability to find an affordably-priced home, but because they continue to get outbid by other offers."
A survey in the NAHB report showed that 40% of buyers have been outbid for a home they wanted to purchase. This is more than twice the percentage in 2019, which was 19%.
What does this mean for sellers today?
It means sellers have tremendous leverage when negotiating with buyers.
In negotiations, leverage is the power that one side may have to influence the other side while moving closer to their negotiating position. A party's leverage is based on its ability to award benefits or eliminate costs on the other side.
In today's market, a buyer wants three things:
To buy a home
To buy now before prices continue to appreciate
To buy now and take advantage of historically low mortgage rates while they last
These three buyer needs give the homeowner tremendous leverage when selling their house. Most realize this leverage enables the seller to sell at a good price. However, there may be another need the seller has that can be satisfied by using this leverage.
Here's an example:
Odeta Kushi, Deputy Chief Economist at First American, recently identified a situation in which many sellers are finding themselves today:
"As mortgage rates are expected to remain near 3%, millennials continue to form households and more existing homeowners tap their equity for the purchase of a better home…Many homeowners may want to upgrade, but do not for fear that they will be unable to find a home to buy."
She then offers a possible solution:
"While the fear of not being able to find something to buy will not disappear in a limited supply environment, new housing supply can incentivize existing homeowners to move."
There's no doubt many sellers would love to build a new home to perfectly fit their changing wants and needs. However, most builders require that they sell their house first. If the seller sells their home, where would they live while their new home is being constructed?
Going back to the concept of leverage:
As mentioned, buyers have compelling reasons to purchase a home now, and many homeowners have challenges to address if they want to sell. Perhaps they can make a deal to satisfy each party's needs. But how?
The seller may decide to sell their home to the buyer at today's price, which will enable the purchaser to take advantage of current mortgage rates. In return, the buyer might lease the house back to the seller for a pre-determined length of time while the seller's new home is being built. A true win-win negotiation.
Not every buyer will agree to such a deal – but you only need one.
That's just one example of how a seller might be able to overcome a challenge because of the leverage they have in today's market. Maybe you feel a need to make certain repairs before selling. Perhaps you need time to get permits or approvals for certain upgrades you made to the house. Whatever the challenge, you may be able to work it out.
Bottom Line
If you're considering selling your house now but worry a huge obstacle stands in your way, let's connect. Maybe with the leverage you currently have, you can negotiate a deal that will allow you to make the move of your dreams.
February 23, 2021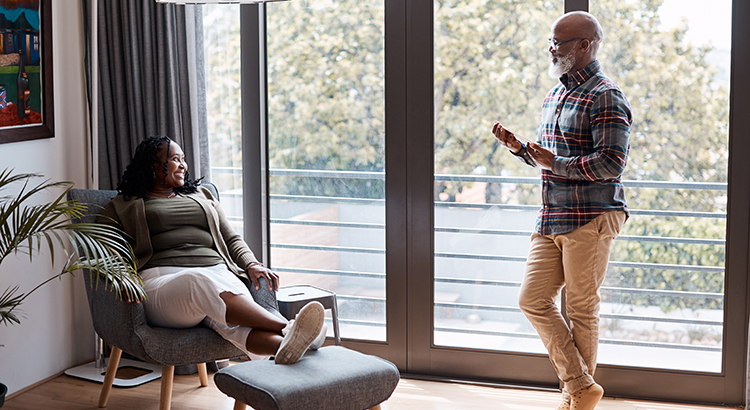 We're currently experiencing historically low mortgage rates. Over the last fifty years, the average on a Freddie Mac 30-year fixed-rate mortgage has been 7.76%. Today, that rate is 2.81%. Flocks of homebuyers have been taking advantage of these remarkably low rates over the last twelve months. However, there's no guarantee rates will remain this low much longer.
Whenever we try to forecast mortgage rates, we should consider the advice of Mark Fleming, Chief Economist at First American:
"You know, the fallacy of economic forecasting is don't ever try and forecast interest rates and/or, more specifically, if you're a real estate economist mortgage rates, because you will always invariably be wrong."
Many things impact mortgage rates. The economy, inflation, and Fed policy, just to name a few. That makes forecasting rates difficult. However, there's one metric that has held up over the last fifty years – the relationship between mortgage rates and the 10-year treasury rate. Here's a graph detailing this relationship since Freddie Mac started keeping mortgage rate records in 1972: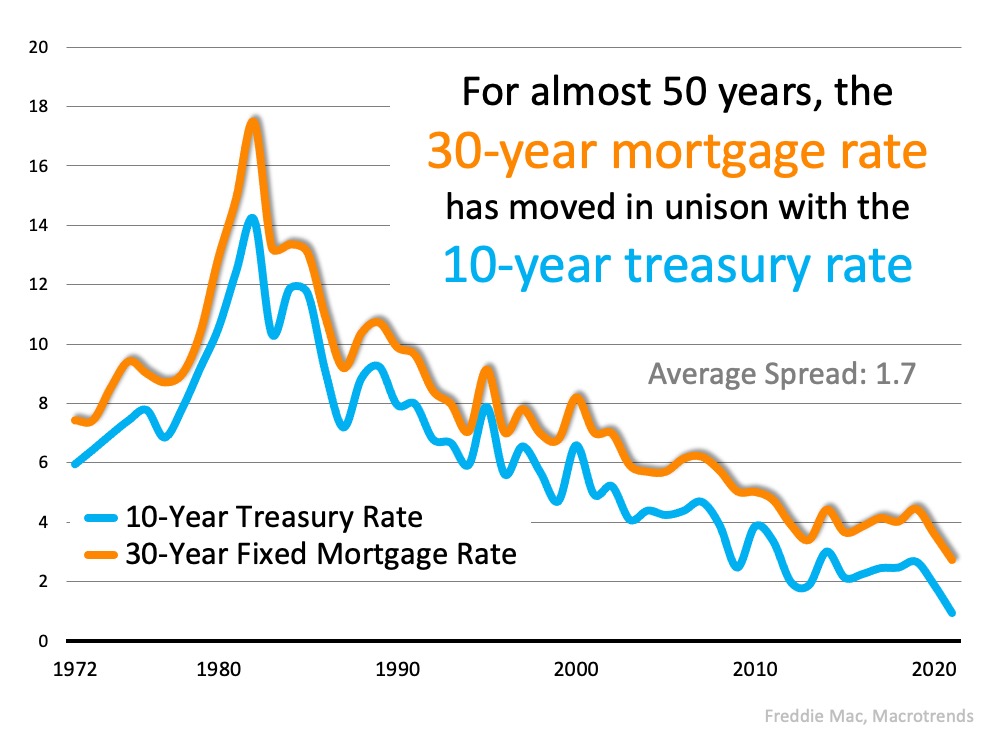 There's no denying the close relationship between the two. Over the last five decades, there's been an average 1.7-point spread between these two rates. It's this long-term relationship that has some forecasters projecting an increase in mortgage rates as we move throughout the year. This is based on the recent surge in the 10-year treasury rate shown here:
The spread between the two is now 1.53, indicating mortgage rates could rise. Actually, a bump-up in rate has already begun. As Joel Kan, Associate VP of Economic Forecasting for the Mortgage Bankers Association, reveals:
"Expectations of faster economic growth and inflation continue to push Treasury yields & mortgage rates higher. Since hitting a survey low in December, the 30-year fixed rate has slowly risen, & last week climbed to its highest level since Nov 2020."
How high might they go in 2021?
No one knows for sure. Sam Khater, Chief Economist for Freddie Mac, recently suggested:
"While there are multiple temporary factors driving up rates, the underlying economic fundamentals point to rates remaining in the low 3% range for the year."
What does this mean for you?
Whether you're a first-time buyer or you've purchased a home before, even an increase of half a point in mortgage rate (2.81 to 3.31%) makes a big difference. On a $300,000 mortgage, that difference (including principal and interest) is $82 a month, $984 a year, or a total of $29,520 over the life of the home loan.
Bottom Line
Based on the 50-year symbiotic relationship between treasury rates and mortgage rates, it appears mortgage rates could be headed up this year. It may make sense to buy now rather than wait.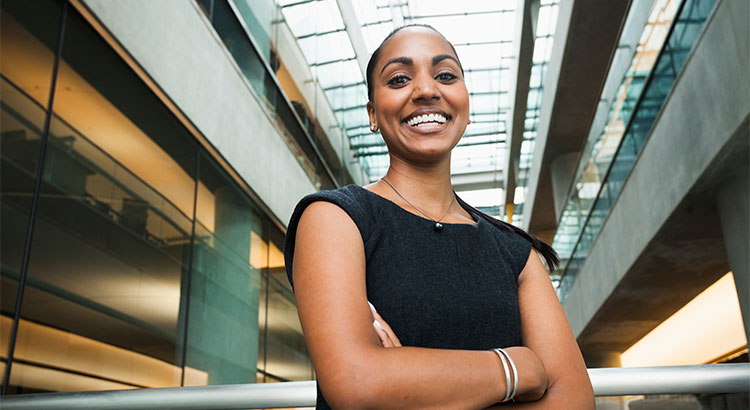 So, you've been searching for that perfect house to call 'home,' and you've finally found it! The price is right, and in such a competitive market, you want to make sure you make a good offer so that you can guarantee that your dream of making this house yours comes true!
Below are 4 steps provided by Freddie Mac to help buyers make offers, along with some additional information for your consideration:
1. Determine Your Price
"You've found the perfect home and you're ready to buy. Now what? Your real estate agent will be by your side, helping you determine an offer price that is fair."
Based on your agent's experience and key considerations (like similar homes recently sold in the same neighborhood or the condition of the house and what you can afford), your agent will help you to determine the offer that you are going to present.
Getting pre-approved will not only show home-sellers that you are serious about buying, but it will also allow you to make your offer with confidence because you'll know that you have already been approved for a mortgage in that amount.
2. Submit an Offer
"Once you've determined your price, your agent will draw up an offer, or purchase agreement, to submit to the seller's real estate agent. This offer will include the purchase price and terms and conditions of the purchase."
Talk with your agent to find out if there are any ways in which you can make your offer stand out in this competitive market! A licensed real estate agent who is active in the neighborhoods you are considering will be instrumental in helping you put in a solid offer.
3. Negotiate the Offer
"Oftentimes, the seller will counter the offer, typically asking for a higher purchase price or to adjust the closing date. In these cases, the seller's agent will submit a counteroffer to your agent, detailing their desired changes, at this time, you can either accept the offer or decide if you want to counter.

Each time changes are made through a counteroffer, you or the seller have the option to accept, reject or counter it again. The contract is considered final when both parties sign the written offer."
If your offer is approved, Freddie Mac urges you to "always get an independent home inspection, so you know the true condition of the home." If the inspector uncovers undisclosed problems or issues, you can discuss any repairs that may need to be made with the seller or even cancel the contract altogether.
4. Act Fast
The inventory of homes listed for sale has remained well below the 6-month supply that is needed for a 'normal' market. Buyer demand has continued to outpace the supply of homes for sale, causing buyers to compete with each other for their dream homes.
Make sure that as soon as you decide that you want to make an offer, you work with your agent to present it as quickly as possible.
Bottom Line
Whether buying your first home or your fifth, having a local real estate professional who is an expert in his or her market on your side is your best bet in making sure the process goes smoothly. Let's talk about how we can make your dream of homeownership a reality!